It's all too common for us to lose ourselves in work, relationships, or just the daily craziness of life. We forget about our hobbies, our goals, and in general our peace. However, there is a lot to be said about returning to yourself and your soul skin.
"The return to the wildish state periodically is what replenishes her psychic reserves for her projects, family, relationships, and creative life in the topside world. […] Eventually every woman who stays away from her soul-home for too long, tires. This is as it should be. Then she seeks her skin again in order to revive her sense of self and soul, in order to restore her deep-eyed and oceanic knowing. […] These phases are not necessarily chronological, for mid-age women are often newborn, old women are intense lovers, and little girls know a good deal about cronish enchantment. […] Those who toil too long without respite are also at risk. […] We lose the soulskin by becoming too involved with ego, by being too exacting, perfectionistic, […] or by being dissatisfied – about self, family, community, culture, world – and not saying anything about it, or by pretending we are an unending source for others, or by not doing all we can to help ourselves." – Women Who Run with the Wolves, by Clarissa Pinkola Estés.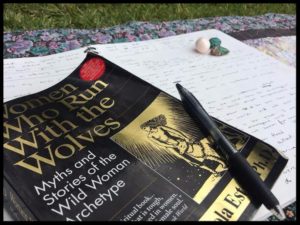 The above passage by Estés explains what can happen when we don't return to the soul-home enough, or when we are pushed too far and end up exhausted mentally, and spiritually. Likewise, importantly so, Estés explains how we as humans push for certain animals to have great living conditions and are disgusted when their natural living areas such as wild jungles, woods, forests, oceans, are overcrowded by cities, concrete, gates, etc, or are demolished, when in reality our living conditions are no different. We are surrounded by noise, construction, pollution.
We are free beings and yet we bound ourselves in these noisy and constricting scenarios, and pretend we don't become the least bit affected by it. There is a great passage within Women Who Run with the Wolves, that illustrates how we compensate a loss of a serene habitat and clear mind by going on yearly vacations which are to give us momentary joy and relief from the stresses and boundaries of life, when really relieving ourselves of these stresses and poisonous relations must start from within us, and not via an expensive holiday. Holidays may give us insight into what we truly want and how our lives can be different without the stresses, however the work must be done within ourselves to bring our wants & visions to realities. The tools we build within will help us understand and grow through adversity and hardship, whilst expensive holidays may vanish, our funds may vanish, but our intuition and soul stays with us forever, no matter how fluctuating the health of the soul may be – we have the power to improve it and control the state of it.
For example, within poisonous and toxic relationships, one with a voice that is tied and held within the other's fist, will have a hard time leaving and realising what they need most, in the realm of kindness, respect, care, and love. "It takes will and force to overcome these relationships, but it can be done, […] as in the story, one will awaken to the voice calling from home, calling one back to the core self where one's immediate wisdom is whole and accessible. From there, a woman can decide with clear-seeing what it is she must have, and what it is she wants to do." – Women Who Run with the Wolves.
It isn't necessarily about bad relationships or even good relationships! We of course aim to have good relationships however the soul skin can be lost even in good ones. When our energy is overused, our mental and physical state is burnt out, and/or lack of putting in the good work to further aid our knowledge, creativity, good energy, and excitement, all these areas can push the soul skin to be lost. When we put so much into good relationships and focus heavily on the relationship, sometimes we forget about ourselves.
Yes, everything is positive and lovely in that relation, however what about ourselves? Are we still stimulating our mind and soul? Are we still keeping ourselves excited within our personal lives? Are we still reaching academic or personal goals? Satisfying the relations or needs of others isn't always beneficial nor helpful to ourselves if we over do it. Remember to look inwards at what you need right now.
You are always there right within you.
Here are some tips that may help in returning home to yourself:
Sit down with yourself in an empty, quiet room – allow yourself to really hear what is calling you. It may not come to you immediately, but really listen. Hear yourself even through the silence. Are you tired? Are you burnt out? Are you sad? Angry? Whichever it may be, allow yourself to listen and take in the feelings. Do not shut them out!
Record these areas, whether it's in a journal or voice recorder, make note of them. Revisit them from time to time, so you can keep yourself accountable, revisit your growth, and to remind yourself of your true joy. Many of our true joys are diluted once we return to the workplace and stressors (and success) become our main focus.
Re-evaluate all your relationships. Not just romantic, but all. Do you feel they are healthy? What is your definition of healthy? Can you go to them for help, or do you feel they're constantly only coming to you? Are your energies balanced? Are they constantly coming to drain you of your energy? Do you need to give more in the relationship? Are you the drainer? Do you need to reconnect with yourself more?
Do you need to strengthen your voice? Believing in and going to our intuitions first – are extremely important tools. We constantly are going to others for advice and guidance, when sometimes the best thing for our soul is to listen to our intuition first. Don't second guess your soul and mind, it has grown with you and knows what you like & what you don't like, and what you're afraid of, and what you want to accomplish. Work on believing more in yourself, this will reignite your soul hugely!
Whew to summarise:
There is no right time in returning to yourself. You are always there right within you, however sometimes our soul skin can become a shell of what it once was, and our inner voice can become silenced by outside noise and third-party opinions and energies. Looking inwards, strengthening our voices, building a better relationship with our intuition, and holding ourselves like newborns but at a high standard, are all imperative in returning home to the soul skin.