In the recent days around the tragic murder of George Floyd, individuals and communities from all walks of life and all backgrounds have come in solidarity to protect, and advocate for Black lives, and the injustice occuring.
White people and non-Black individuals have come through using their privilege and platforms to speak out on the injustice that is soaring currently, and previously, across the United States. Though the uprising has been enormous, there always could be more done, more voices used, and more actions taken – the work is never finished.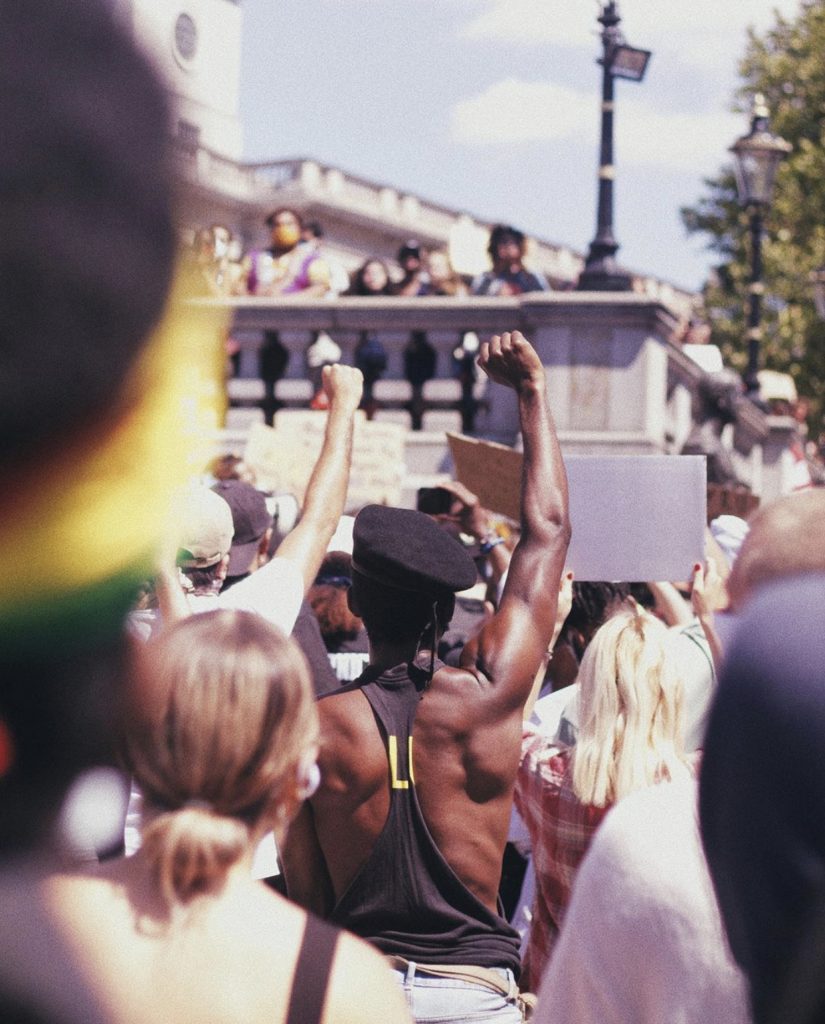 In times where social media is saturated and inundated with petitions, campaigns, and awareness raising messages for these causes, it can be a lot to take in and leave some individuals unsure of how to go about spreading the message – "the right way". To confirm – there isn't actually necessarily a "right way" to spread the message, rather we need to see the message just being spread, widely, heavily, and continuously – period.
–
Here are some ways you can use your voice to raise awareness on the injustice and blatant racism happening:
First, recognise your privilege. As Adwoa Aboah said, "[…] privilege isn't about what you've gone through, it's about what you haven't had to go through […]" We all have some sort of back story or hardship we have been through, and recognising privilege or the immense gravity that skin color has on determining someone's life or the journey or the nuances through their life, is incredibly important to realise. Recognising one's privilege is not taking away your hardship or struggle, but rather that your skin color didn't play a factor in it and that there were levels in how your skin color gave you some sort of privilege or leverage through those hardships. Courtney Ahn illustrated a great slideshow that shows the areas of white privilege that we may not know we're benefitting from, from being a prominent representation on the media, never being used as the token model, or never having to think that no one at work looks like you, or that you don't have anyone harassing you based off your skin color, the slideshow is informative in ways one may not realise.
Through recognising this, we need to re-evaluate the way we send messages out or express our disgust towards these injustices.
For example, saying "I'm shocked this happened" or "I can't believe it" both are inappropriate ways to express your feelings, as they denounce the experience as to something that only happens once every 20 years or 100 years – when in reality it's an everyday occurrence. According to the Atlantic, "from 1980 to 2013, 262,000 Black males were killed in America. By contrast, roughly 58,000 Americans died in [the] Vietnam [war]. In New Orleans, about 6,000 African American men have been murdered since 1980." When someone says they're shocked, it alludes that their privilege has protected them by allowing them to live their lives calmly and being able to ignore what is presently happening. When in reality this is happening every day to Black men, Black women, Black trans men & women, and Black children. Rachel Cargle explains it perfectly in that by saying these phrases such as "I'm shocked this happened" it's alluding that "our pain is so far off your radar that the mention of it shocks you."
Do your research. Go to Google, read books, read petitions, listen to interviews & podcasts on these issues, and buy books from Black family owned or independent Black owned shops. Whilst many Black individuals may be happy to help educate you or share knowledge, know that one can't assume this for every Black person. They don't owe it to you to educate you, as it denotes that Black people are at our disposal to teach us the injustices or issues that are extremely painful to discuss. There's a plethora of educational avenues one can go on to learn about this themselves. As these issues have been happening for hundreds and hundreds of years, this means there are thousands of books, journals, and documentaries on the Black experience and the injustice around, this is not a new subject that has limited resources, but rather is inundated with documents and accounts of the injustice that are easily at our disposal to read.
Along with buying from Black owned businesses, remember the importance of buying from Black authors or Black creatives. Whilst it is good to have allies from other communities help raise awareness of what's going on – the white community are not the voices of Black people. They can speak out about injustices and share avenues to learn about the horrible acts, however it's vitally important that allies create a space and raise the platform for Black folx to speak first hand on their experiences, feelings, and discussions.
Bring to the forefront petitions, donation fundraisers, and reputable educational articles. Whilst many of us in this generation are aware of the injustices that go on daily, and are adversely disgusted by these acts, many older generations or more conservative individuals in one's family may not get the message. Whilst this is frustrating in itself, speaking to them on the injustices and what is truly going on may help. Along the way we may ask ourselves what more can we do apart from educating ourselves and our communities – by bringing forth petitions and fundraisers, we are paving the way in a statistical way that shows exactly how many people are striving for a huge change.
Color of Change is a great platform that highlights current campaigns & fundraisers, along with articles on current news topics or updates on Black or POC individual wins or injustices. For example, Color of Change noticed that on GoFundMe (the fundraising platform), there were 26 pages asking for donations in defense of Ahmaud Arbery's killers. Rightfully so, GoFundMe took those pages down. Likewise, Color of Change began a petition to get George Floyd's killer charged for their crime and put into prison. There is also a platform called RunWithMaud.com which is a petition to get justice for Arbery and his family, and likewise each signature sends a letter to officials who can contribute in making a change.
Share useful educational pieces on social media and to your family members, coworkers, or members of your community. I underline the word useful here because as we have all mostly seen the graphic and horrific videos of George Floyd and many other Black people being murdered, these videos can be extremely traumatic for Black folx, especially when all too commonly there are no warnings before them. These experiences are lived experiences and are all too familiar to Black communities. If you find use in sharing the videos to share the reality – recognise who you're sharing it to – perhaps share it with your non-Black friends, non-Black colleagues, non-Black family members, etc.
Along with raising awareness via petitions and fundraisers, another great thing to do is sharing informative text pieces and diagrams. On Instagram, The Conscious Kid shared a great diagram that extensively points out themes, actions, experiences, and topics that are categorised under overt white supremacy (socially unacceptable such as the KKK, racial slurs, lynching, to name a few) and covert white supremacy (socially acceptable such as white silence, denial of white privilege, considering AAVE uneducated, claiming reverse racism, and mass incarceration, to name a few).
So many individuals continue to say they aren't racist prime example: Amy Cooper. In her apology audio, Amy opens by saying she isn't racist – however this sounds all too familiar. Unbeknownst to many people claiming they're not racist, covert white supremacy is alive and thriving as it continues to be seen as not racist, and signed off as okay. Through covert ways, Amy was showing her privilege, racist acts, and putting that man in harm's way, as societal and structural racism even when done covertly, will always benefit the oppressor.
By seeing and dissecting this diagram, more of us can become aware of the nuances and covert white supremacy actions that we are potentially spreading, and to stop taking part in them. Many people will fireback saying that the covert (socially acceptable) actions that are passed around such as white silence, reverse racism, or denial of white privilege, are areas that don't affect Black individuals, however it does – it is a common wave of accepting that these ridiculous actions are passed under the rug and are seen as acceptable as no one is challenging them. Using your voice to speak up against any of these actions has the potential to have a huge affect on changing the way Black people are treated.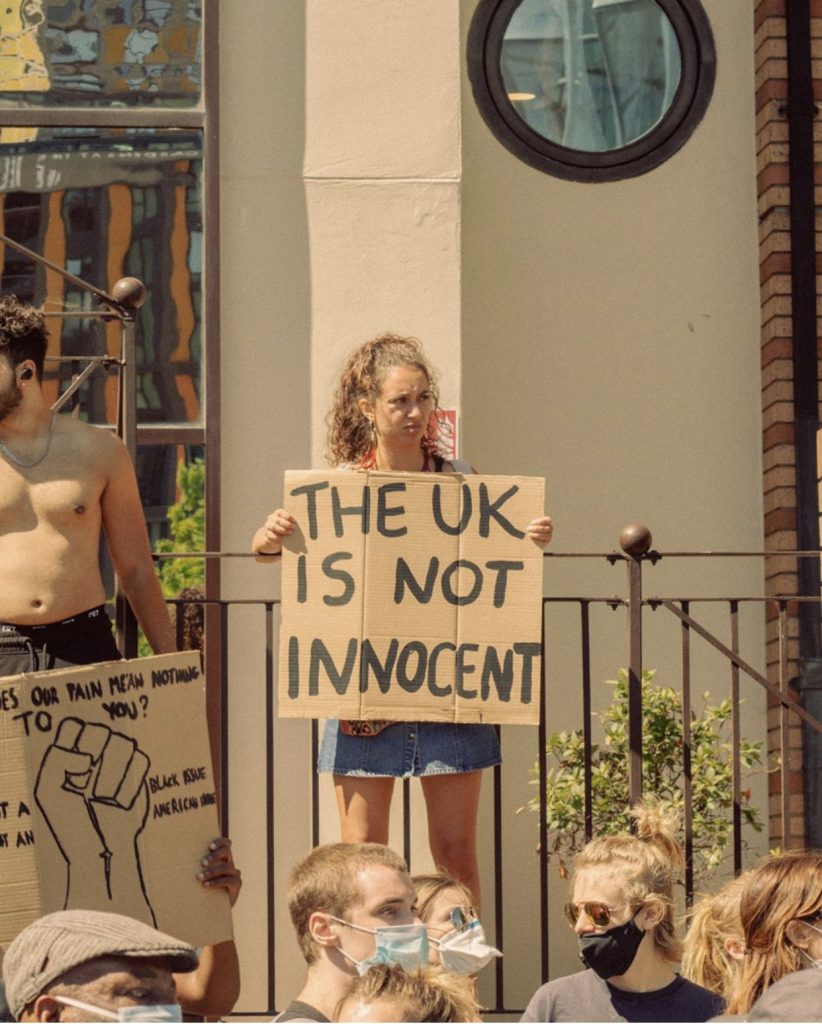 Remember that speaking up at any point and sharing your voice to raise awareness, and likewise using your privilege to raise the platform for those without the same privilege, helps in getting some sort of justice. By donating, signing petitions, sending letters to officials and government officials, speaking to our families, sharing helpful educational resources on social media, and unlearning your internalised / covert racism it challenges the unfair and unjust traditions placed upon Black people. We the people have so much strength in numbers, and our voices should be heard and a force to be reckoned with.