*Part I of Isabelle's interview can be found here*
FALLOUT:
Q: You stood up for yourself, for the first time. What followed?
I: "He said, 'Why don't you just leave then?' so I called his bluff. I went upstairs and started throwing clothes into a suitcase. It was all very dramatic. He came upstairs and asked me what I was doing, and I said, 'I'm leaving, like you told me to.' It was the first time I'd seen him look anything other than very confident. He begged me to stop and to talk to him and so I, once again, retreated slightly. You want them to turn back into that charming person they were in the beginning. You want them to love you again, to be obsessed with you again. It's intoxicating having someone love you that much. I don't think I'll ever get over that addiction."

He promised he'd change, through performative tears, but she insisted on leaving – asking him to leave the house so she could pack her things, eventually finding refuge at her best friend's house.

Q: How did he try and win you back?
I: "After I'd packed everything I owned into my car and driven off, he called me twenty-seven times, and said he couldn't believe how awfully he'd treated me, and that it wasn't really him. He said he'd change, and that he couldn't believe who he had become. I bought all of it. I told him that if he went to therapy, and worked on himself that we could talk. He sent me a letter and an advent calendar saying he was going to get better and get me back. And then I endured weeks of silence. I was sitting around waiting to hear from him – it was torturous. And as soon as I allowed myself to get my hopes up again, and messaged him, he cut me off. He'd done all of it just to gain the upper hand again, because I'd ended it the first time. He wanted to drop the final bomb. It was so crushing – all I had was my pride, and then I had nothing. I've never heard a single word from him since. Not even a text saying sorry. Absolute radio silence."
.
"'It takes two to tango', they'd say. You wouldn't say that to someone who's been physically abused, but people say it all the time about emotional abuse."
.

Q: For women in similar relationships, what are some key red flags you wished you'd known that they can look out for?
I: "As soon as there's a red flag, your body will tell you. I was listening to Caggie Dunlop's podcast, and she said when she was with her ex boyfriend – who was horrible – she had really awful period pains, and the exact same thing happened to me. It was unbearable. I felt like I was going to faint, and be sick from the pain. As soon as we ended – gone. My body literally said No. No babies with him. I was also never allowed to exhibit human behaviour. I was his eye-candy for social events, but when we were alone I was scrutinised. He told me I was disgusting for being on my period, and refused to help me when I was in pain. I once had to drive myself to get painkillers while he watched TV. I almost collapsed."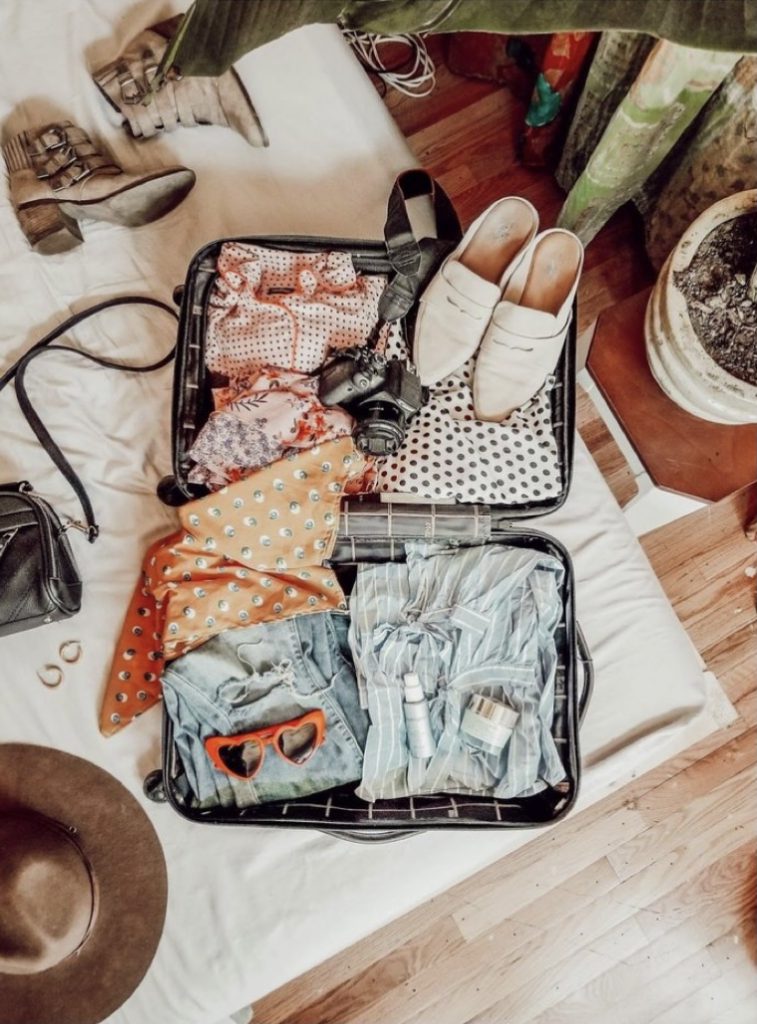 I: "Another one is rushing you into things you're not ready for. Also big mood swings. I broke one of Jasper's mugs and he reacted as if I'd spent all of his money buying a bouncy castle – he was so angry about this mug! Narcissists find it very difficult to remain calm, and show irrational anger over inconsequential things. I'd also say, never change your plans for them. You need to be able to hold your own. You have your life, and they can be an addition into that, but you don't have to merge into one life to love someone. Your life is your life – hold onto that with all of the grip you possess because, as soon as you let that go,  you've let a part of you go. You've let yourself go. Don't let them isolate you from friends and family – that's exactly what they want."
I: "But love-bombing is the biggest one. It's so hard to avoid, and every rom-com tells us that that's how it should be. They tell us that any guy worth his salt will be really over the top and act like you're the best thing in the world and want to marry you immediately, if they really love you – and actually, no he won't. I'm hoping (and I've never experienced this), but I'm hoping it's just going to feel calm."


Q: Did he try and isolate you from friends and family?
I: "Yes. The one person who actually saw through him was my mum. She kind of caught him in a lie as we were having lunch and, after that, he would never come back with me to see them. He made me feel bad, saying, 'your family don't think I'm good enough for you. I feel awful when I'm with them. They make me feel bad about myself', and I'd be like, 'Oh my god I am so sorry! That's so awful'. Similarly in my friendships, if a friend cancelled a coffee date he'd say, 'they're a terrible friend to you'. Drip drip drip. Making me think everyone in my life was awful. He decided what was bad for me, and what I shouldn't accept when, really, he was the one I shouldn't have been tolerating. Luckily my friends held strong and I'm really lucky for that. By all logic, they should have given up on me. I didn't listen to their advice for two years about him, but thank goodness they stuck around."

Q: What are some things you've noticed, in hindsight, about Narcissistic behaviour that you initially didn't click with?
I: "Moments of inauthenticity, when they're putting on an act. It will slip sometimes. He was really charming to the waiter on our first date, which is a big thing for me. People being rude to wait staff is something I would notice immediately. I went to the loo, as he was paying, and I could hear he was being very curt with the manager, and I pretended I didn't hear that. I felt very uncomfortable and awkward. He was being really blunt, after putting on a show for me. Those little moments where you think Oh that's okay, I don't mind – do mind. Do mind: it's not okay."
Q: When was the first time you thought his behaviour was out of the ordinary for a 'bad relationship'?
I: "I googled: What is gas lighting? As soon as I typed the words, I stopped myself and I knew something was very wrong with our relationship. If you ever find yourself asking those kinds of questions, you already know the answer. You know, it was awful when my University boyfriend cheated on me, but at least he didn't try to convince me I was crazy. I'd take that any day over this. I wouldn't wish this on my worst enemy."
Q: How will you navigate relationships going forward?
I: "I keep on thinking I'm okay now, and I'll be fine for a few days, and then a memory will come up – obviously it's not as dramatic as PTSD – but it will haunt me and I'm grieving all over again. Every time I think it's gone, it comes back. It's been five months now. When that subsides, I'll think about dating again. I think the key is take things so slowly. And as soon as you feel uncomfortable with anything – back off – because that is your body and mind telling you this is not right, and you should listen to that. Nobody knows how you feel and what you want, other than you. Your friends are not in your head or your heart. That is one of the big mistakes I made: putting the big decisions in my life into other people's hands. I didn't trust my own opinion even before I dated him, and that's what made me a prime target. And, when I told people about the break up, they'd speak to me as if I hadn't tried hard enough. 'It takes two to tango' they'd say. You wouldn't say that to someone who's been physically abused, but people say it all the time about emotional abuse. I don't think this is something you can really understand unless you've been there."

Q: How do you feel about him now?
I: "It's very strange. I don't know who he is. I found an old birthday card he'd sent me, and I thought it would make me so sad to read it, but I opened it and I was reading it thinking this could be from a stranger off the street, I feel nothing reading this – who are you? I'm as clueless as to who he is now as I would be if he was a stranger. Isn't that bizarre?"

Isabelle leans back against her rose-velvet headboard, and laughs, as I ask my final question:
Q: Is any part of you worried about him seeing this article?
I: "Yes, but then I think…Well, maybe he'll learn something."
It takes great strength and courage to walk away from a toxic relationship. It takes a fierce woman to expose herself, so vulnerably, in a story of this magnitude, and it takes real love to be driven by a need to help other women. I look at Isabelle, as we wind down our call; her infectious laugh amidst a topic so devastating, with a natural beauty, so apparent – even through the medium of a pixelated Zoom – that the humorous kick to every sentence she spills is somehow softened. She is one of the coolest women I have ever had the privilege of meeting: a hero to the nine year olds she inspires, publicly, every working day, an effortless artist in her spare time, a big sister in the private confines of her home – she is so much more than the sum of her parts. She deserved so much better, and so do you. Stay alert. Stand your ground, and remember:
Verbal abuse is abuse. Emotional manipulation is abuse. Choosing yourself is an act of bravery.
Gut feelings are guardian angels.