It goes without saying that we've seen a plethora of activism techniques within the last couple weeks. Some chose to use their platform (no matter the follower count) to spread awareness on great resources, petitions, and avenues to seek justice for the Black community. Others chose to donate their time or money to physical causes such as marching in protests, helping out at shelters, donating money to causes or petitions. No matter how people choose to give their time, effort, and money to the communities needing support the most, there likewise on the flip side was silent performative activism.
Performative activism is activism in the sense of not really doing much other than creating a facade of doing something, when you're actually not. For example, many brands, and designers, posted a black square on their Instagram page and captioned it with the hashtag #BlackOutTuesday. Some brands also expressed their concern via writing captions along the black squares such as, "We can't stay silent anymore, we don't condone racism" etc. Whilst initially the idea and thought was good, it became apparent that many brands were simply doing this to "check" it off their list of showing they were somewhat of an activist. Similarly to how many brands would choose to cast one Black model – who most of the time was "not too dark skinned" to be their token Black model in a campaign. It is very performative, and again, like checking off their check list of what is politically correct to do.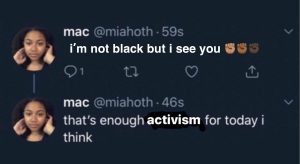 Within 2020, most of the performative activism is seen right through. Many individuals are exhausted from being the token Black person or token model of colour, or are tired of seeing a black square fill up their feed stating they're "against racism", but haven't donated to any cause, or shared any ounce of useful information to their millions of viewers to look in to.
A great diagram on Instagram that was derived by Seerut K. Chawla illustrates the differences between performative and authentic / non-performative allyship. For example within performative allyship, it is commonly noted that a lot of people only begin to speak up when they've been called out about something problematic. Additionally within performative allyship, we've seen announcements being made towards activism but rather a PR built message that is way too general and just for placing a band-aid over a bigger issue at hand. Activism in itself is exuding the word "act" so there needs to be action within activism. There's been plenty of discussions, however numerous people, and organisations have expressed concern over the lack of action, and over abundance of discussion.
Additionally performative activism comes into play when we overgeneralise or bypass the issues at hand that significantly affect the Black community. For example, Chawla illustrates here that by saying comments such as "we're all one" or the famous "#AllLivesMatter" are extremely dangerous towards Black lives. As it wipes over the experiences endured, ignores the dangers Black individuals face, and alludes that there is no such thing as privileges within systemic structures that evidently have Black people disadvantaged. All lives don't matter, until well and truly Black lives are equally treated as their white / non-Black POC counterparts are. 
A great scenario example of authentic activism is exposing racist individuals within systems or companies. For example, within this Instagram post it illuminates the truth that by exposing racist students, we are preventing them from further becoming "higher ups" in our society, such as doctors, or lawyers. Who by holding racist viewpoints, will significantly extend the longevity of systematic racism. However on the flip side, several institutions or brands, aligning with performative activism, and being afraid of ruining their brand image, would simply condemn the action of a racist, but not necessarily take action.
A few brands have come out with a more honest approach to their activism around being honest on who they have within their structural hierarchy at work – in particular Milk Makeup has done this (though individuals have recently come out with new allegations against them which shouldn't be ignored.)
The fact that the number of Black people hired is significantly and disturbingly low is telling how corporations contribute to the longevity of systemic racism. These telling figures are what will showcase the true depth in which a brand, or designer will go to in truly acting as an activist. As beyond social media, and PR statements, true activism has to transcend deeper within corporations, executive positions, and the treatment of BIPOC staff and consumers. In corporations, plenty of politics fly around including issues such as gaslighting, being spoken over, having ideas stolen by white colleagues, or racist comments / actions not being taken seriously. There has to be significant actions taken that will puncture a company's traditional norms, and allow it to soar by including a diverse team to work within, knowledge around handling racism within the workplace, and actions that go beyond tokenistic approaches.
In the past week, we also saw how Everpress was called out, when a previous colleague – Cory Jed – brought to light the horrendous actions, and comments that were made about him and to him within the workplace. Certain Everpress employees would mention how he was the "whitest Black person [they knew]," or that "they knew more about Black/Caribbean culture than [Cory] did," or finally, that the only reason the company couldn't fire Cory was because he was the only Black guy. Whilst the seven comments and other actions made towards Cory were brought up to his higher ups, unsurprisingly they didn't do anything in helping him or look into the matter.
When enormous outrage ensued on social media against Everpress, a statement by the founder of Everpress was brought out. As guessed, it was general, likewise not commenting at all directly towards Cory but rather addressing him as the Black member of staff, and additionally listing out ways that they were going to move forward. In particular the founder of Everpress mentioned they were hiring a "diversity and inclusion manager" to overlook and support the team around these areas. Again, all too similar, we see predominantly white ran corporations and individuals placing the action of doing research and handling these things on to other people / BIPOC, instead of handling it themselves. After bringing to light the exclusion from a team discussion around a Q&A segment on Everpress' Instagram pertaining to diversity within Everpress, Cory was told by the other team member to "bombarb [their] inboxes with any tips, sources of info, […]" to avoid these things happening again. Once again, the matter of researching and doing the work to implement more equality, diversity, and inclusivity, is put on the Black individual's shoulders.
Within Everpress, Cory's case was not isolated. Another previous staff member at Everpress – Junior Adesanya – was treated in a similar way. Junior explained on his Instagram how he was told off for yawning in a meeting, whilst a white intern would fall asleep at their desk numerous times and have no repercussions. Amongst a plethora of issues that occurred during Junior's time at Everpress such as being mocked for his interest in his career of design & culture, he explained further how his mental health really took the brunt of it all, and wasn't met with concern, sincerity, or assistance. 
It is significantly evident that beyond a black square on one's social media page, companies and individuals have to go deeper within activism. It is not good enough to state that their anti-racist, or condem these actions. We have to ask ourselves, how far are we willing to go to destroy the longevity of systemic racism, and performative activism? Behind closed doors, within how we use our money, within who we hire and support, within how we treat those without the same privileges some of us hold, these are all areas we need to look at and actively change for the better.