For many of us, the COVID pandemic has resulted in great changes to our careers and how we work. The transition, from working remotely to being back in the office, is likely to cause some stress, especially with all the new guidelines and COVID worries – after all, the pandemic sadly isn't over yet!
Globally, workers have reported a significant dip in mental health since the pandemic started in 2019, with double the amount of people reporting that they are finding their mental health extremely challenging. It's normal to be facing work-related burnout or mental exhaustion during these times, and it's important that we cut ourselves some slack while reintegrating back into in-person life. Returning to work affects everyone differently and, while it may cause burnout in some, others may feel elated to be back in their previous routine.
If you have been feeling low in motivation, numbness in regards to work, a lack of creativity, forgetfulness, insomnia and increased cynicism, then you may be experiencing burnout – symptoms are similar to those of depression and other mental health conditions. If these symptoms persist outside of work, then it may be a good idea to speak to a mental health professional.
The term burnout is fairly recent, with its first uses occurring in the 70s. While it isn't a diagnosable psychological disorder, it should still be acknowledged, as it could lead to more serious mental exhaustion. We know it can be tricky, and everyone's journey with mental health is unique, so, unfortunately there isn't a 'cure all' to combat this type of exhaustion, but nevertheless, here are a few ways to try to stay on top of your mental health: we hope they help!
1. Acknowledge how you're feeling.
This one may seem fairly obvious, but if you are the type of person who powers through life's hard times, you might not realise the subtle cross-over into a state of fully ignoring your emotional and psychological health. There are inevitable difficulties that arise in our day-to-day lives, but checking in on yourself, to make sure that the stress you are experiencing is the 'normal' work-induced stress and not something more serious, is very important.
2. Don't take on more than you are able, and take some time off if you can.
Burnout is a common cause of overworking and high stress levels. The best thing to do would be to take some time off and rest up, though this is a luxury that many of us cannot afford. If you are able to, reduce your workload and try to maintain a steady amount of tasks. Asserting yourself and setting boundaries about what you are realistically capable of doing, while also not sacrificing your personal time, may remove a great amount of stress from your shoulders, making you feel a little less burnt out.   
.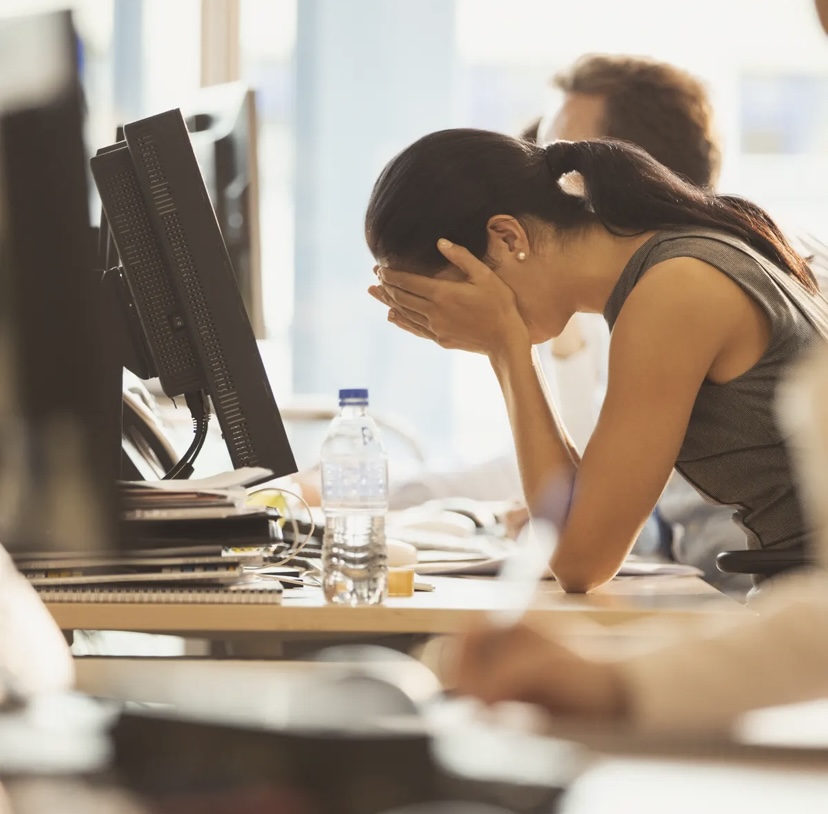 .
3. Be aware of your limits, and say 'no'.
In light of my previous point, I want to stress that we are all human, and all humans have their limits. In order to be able to assert yourself and set boundaries in regards to what you can take on, you need to be familiar with your limits. It's harder to make decisions when going through a burnout, which can make it even harder to set boundaries – especially if you find it hard to say 'no'. This can be especially hard for those with people pleasing personalities.
4. Take regular breaks during your work days
Try to take short breaks when you feel like you need them. Multiple studies have shown that there are significant benefits, and that people are more productive when able to take breaks in between working. Achieving a healthy work-life balance is key to combating, and even avoiding, burnout altogether. So don't be afraid to take a quick stroll or go and get a coffee as a means to unwind – just make sure you aren't thinking about anything work-related when on your little breaks, that just makes them obsolete!
5. Don't work on your days off – don't even think about work!
Just like when taking short breaks, thinking or stressing over work on your days off defeats the point of having days off entirely. Your out of office hours should be just that – out of office. Dedicate your time to hobbies and unwinding. Having this kind of separation may even spark a little of the love you lost for your job during your burnout!

If you are having suicidal thoughts, contact the National Suicide Prevention Lifeline at 1-800-273-8255 for support and assistance from a trained counsellor. If you or a loved one are in immediate danger, call 911.